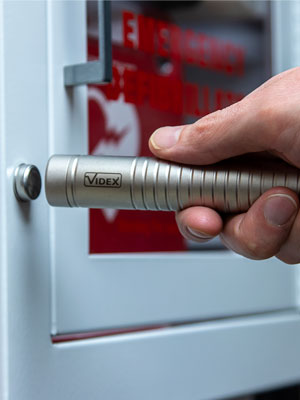 PulseStar is a weather-resistant, portable iButton reader designed for maximum durability in both indoor and outdoor applications.  The PulseStar indicates a successful read with a pulsing vibration. The vibrating pulse makes the PulseStar ideal for use in environments where sound cannot or should not be heard, such as on a loud factory floor or in a quiet museum.
The PulseStar is designed with a sealed cylindrical case, which protects against the ingress of dust and moisture.
Videx works with a network of Independent Software Vendors (ISVs) that create a wide variety of custom data collection applications such as time and attendance tracking and payroll, transportation, inventory and production.
PulseStar Brochure
Learn more today!