The CyberBadge barcode scanner is the newest in a long line of portable barcode scanners. Videx has been manufacturing portable barcode scanners since 1985. These readers are innovative and durable, but above all, they are easy to use. All Videx products are manufactured in Corvallis, Oregon, USA.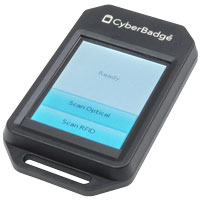 As a result of 30+ years of experience making barcode scanners, the CyberBadge is reliable and easy to use. Furthermore, it functions with a single purpose just like the TimeWand, OmniWand, and LaserLite families of scanners. In fact, the CyberBadge barcode scanner makes it even easier. There are no confusing menus to wade through – you just grab it and go.
The CyberBadge scanner scans fast. A powerful 2D imager barcode scan engine provides fast, 360 degree scanning of 1D or 2D barcodes, including QR codes. Try scanning at any angle. The bar form LEDs provide quick targeting to allow maximum productivity.
The CyberBadge is also an RFID scanner. RFID tags can take on many shapes and forms. RFID tags can look like a button on clothing, a ski lift ticket, a sticker, and much more.
Finally, the CyberBadge has an audio jack for recording and playback of voice notes. These voice notes can be played back later. There is plenty of room for voice notes since the CyberBadge has 8 Gigabytes of memory.
The CyberBadge operates in the "Internet of Things" environment. It syncs via Wi-Fi to an open source web server. It collects the data and communicates to a web application almost instantly. The CyberBadge manager web server can also write ASCII delimited data files into a folder, which can be imported into legacy programs such as those written for TimeWand, OmniWand, or LaserLite family scanners.
Most of all, the CyberBadge barcode scanner has a small form factor. It is best for users that don't want a large, bulky scanner. The CyberBadge barcode scanner is a good fit for health care, time tracking, security, retail, and many more applications. The analog resistive touch screen allows the CyberBadge to be used even when wearing gloves!
Contact us today for more information!
CyberBadge Brochure
Learn more today!