The CyberBadge handheld barcode and RFID scanner is a user-friendly, versatile data collection device. Optimized for speed and efficiency, a streamlined interface allows users to grab a CyberBadge and immediately go to work reading barcodes and RFID tags. The simplicity of the CyberBadge's 'point-and-scan' multi-use application provides immediate functionality without requiring extensive configuration or employee training.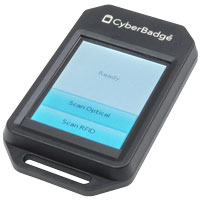 Videx offers powerful development tools that enable rapid implementation of customized applications. Developers can create turnkey or build-to-order CyberBadge applications with a flexible SDK built on JavaScript. For ultimate convenience, a web-based application builder enables the creation of custom CyberBadge applications using an intuitive, diagram driven environment that doesn't require programming or JavaScript expertise.
CyberBadge is designed and manufactured in the U.S.A. with high impact, fiberglass-reinforced nylon and a compact form factor to provide durability and practicality in nearly any environment.
Contact us today for more information!
CyberBadge Brochure
Learn more today!